Current Season (2018-2019)
"Bite of Humor II: Sidewalk Café"
The original A Bite of Humor, written by Susan Crandall, co-directed by Rene Kightlinger, went on the MCT stage in Meadville in October, 2015. The positive response, night after night, was marvelous. A Bite of Humor II is a delightful extension of the original. It puts you in mind of the "fly on the wall" scenario, where you get to sit in on a brief conversation rather than an entire novelette.
Many of the original actors have joined to recreate the restaurant patrons who let us in on a piece of their lives. A Bite of Humor II is a sidewalk café, which fits with today's popular eating experience. Patrons come and go, but the easy chatter and heartfelt laughter remains.
There are nine scenes ranging from Stefan Potts and two friends who have come back to town for their class reunion, to a mom and daughter having lunch. Bill Fuller and Audrey Schweitzer are two angels checking on their interns. Lou Rich and John Taylor discuss technology. An apartment fire has Sarah Wolford and Susan Clark deciding what to do next. Joe Galbo needs dating advice and PJ Vogt and Mitchell King brainstorm the best strategy for creating a commercial. Deb Ormston and Bridget Pendolino return to delight us with their wonderful stage presence. Show dates are September 28 – October 7, 2018
"A Night at an English Music Hall"
The Music Hall was a major source of entertainment in England from the late 19th century and continued through to WWI. These shows featured a variety of acts with singers, comedians, acrobats, animal acts, magicians, and dancers. Meadville Community Theatre presents A Night at an English Music Hall, directed by local Tom Hall. Local entertainers will recreate some of these acts with accomplished group of singers, actors, and different guest performances at every show. Each night will showcase a different special guest act, including a trio of women performing highlights from Gilbert and Sullivan, a belly dance troupe, and a Celtic string band.Don't miss the second weekend though with just as equally talented ballroom dance ensemble from Allegheny, tuba quartet, and a gospel string band. Stage favorites, such as Jason Sakal, Alicia Greathouse, Kathy Firster, Adam Leute, and Veronica Asay, will be performing each night. With something for everyone, and no two shows the same, all the local talent will blow you away! A Night at an English Music Hall runs November 9 – 18, 2018.
"One Flew Over the Cuckoo's Nest"
One Flew Over the Cuckoo's Nest, adapted for the stage by Dale Wasserman, tells the story of institutional madness where obedience and conformity are the only acceptable indications of good mental health. Randle McMurphy, a charming rogue, contrives to serve a short sentence in an airy mental institution rather than in a prison. This, he learns, was a mistake. He clashes with Nurse Ratched, a manipulative and fierce martinet. He quickly takes over the yard and accomplishes what the medical profession has been unable to do for twelve years; he makes a presumed deaf and dumb Indian talk. He leads others out of introversion, stages a revolt so that they can see the World Series on television, and arranges a rollicking midnight party with liquor and chippies. When these acts are not tolerated, McMurphy learns the authorities and Nurse Ratched have terrible ways of enabling conformity. Based on Ken Kesey's 1962 novel of the same name, One Flew Over the Cuckoo's Nest is a powerful exploration of the beauty and the danger of being an original.
Directed by Katie Wickert, this classic stage show runs January 25 – February 3, 2019. One Flew Over the Cuckoo's Nest is presented by special arrangement with SAMUEL FRENCH, INC.
MCT Youth Show: "James and the Giant Peach"
A delightfully offbeat musical adaptation of the classic Roald Dahl adventure, James and the Giant Peach is a fantastical tale of a boy, his insect friends, and their amazing journey across the ocean on a giant piece of fruit. Featuring music and lyrics by the Tony-nominated songwriters Justin Paul and Benj Pasek and book by Timothy Allen McDonald, James and the Giant Peach is based on the beloved book by Roald Dahl and tells the story of James Henry Trotter, a young orphan whose parents were eaten by a rhinoceros and is sent to live with his dreadful aunts. Sent by his conniving aunts to chop down their old fruit tree, James discovers a magic potion which results in a tremendous peach occupied by some not-so-normal characters.  From the center of the gigantic fruit, James and the unlikely crew launch a journey of enormous proportions.  Together they discover that while we are all born into a family, we then go on to create a family of our own.
This family friendly, all youth production is directed by Sarah Wolford and Dan Winston. Show dates are March 15 – 24, 2019. James and the Giant Peach is presented through special arrangement with Music Theatre International (MTI). All authorized performance materials are also supplied by MTI.
SPECIAL EVENT
A Staged Reading of "12 Angry Men" by 12 Impassioned Women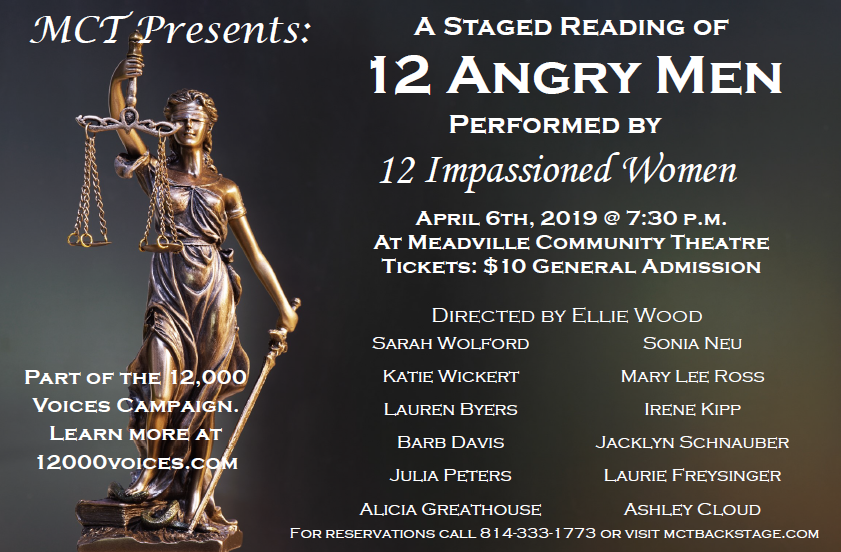 An all-star cast of women will lend their impassioned voices to a reading of the classic play, Twelve Angry Men by Reginald Rose, as part of the national 12,000 Voices campaign, on Saturday, April 6, 2019. A limited number of tickets are available for $10 each online or by reservation.
"12 Angry Men" was written in 1954, 19 years before women were permitted to serve on juries in all 50 states. Over the weekend of April 5 – 8, 2019, women on stages across the country will read a play about the power one person can have when they speak with conviction in our judicial system. Directed by Ellie Wood, the staged reading is chock full of several local favorites in the arts community.
Following the staged reading on April 6th, audience members will have the opportunity to update their voter registration, as well as visit with students from Allegheny College's Center for Political Participation.
About Twelve Angry Men
The play was adapted from Reginald Rose's 1954 teleplay of the same name for the CBS Studio One television series. The success of the made-for-television courtroom drama resulted in a film adaptation directed by Sidney Lumet. Twelve Angry Men was Lumet's first feature film, and the only producing credit for Henry Fonda (who also starred in the film). Viewed as a classic, the film was nominated for three Academy Awards, including "Best Director," "Best Picture," and "Best Screenplay." The Broadway debut of Twelve Angry Men came 50 years after CBS aired the play, opening on October 28, 2004 at the Roundabout Theatre Company's American Airlines Theatre where it ran for 328 performances and was nominated for three Tony Awards, including "Best Revival of a Play," "Best Actor in a Play," and "Best Direction of a Play."
In the story, a 19-year-old man has just stood trial for the fatal stabbing of his father. It looks like an open-and-shut case – until one of the jurors begins opening the others' eyes to the facts. Sequestered in a small room, each juror reveals their own character as the various testimonies are re-examined, the murder is re-enacted and a new murder threat is born before their eyes. Tempers get short, arguments grow heated, and the jurors become Twelve Angry Men.
For tickets and information about the performance, visit mctbackstage.com or call the box office at 814-333-1773. For more information about 12,000 Voices, visit 12000voices.com.
"12 Angry Men" is produced by special arrangement with DRAMATIC PUBLISHING, Woodstock, Illinois.
"Sweet Tea & Baby Dreams"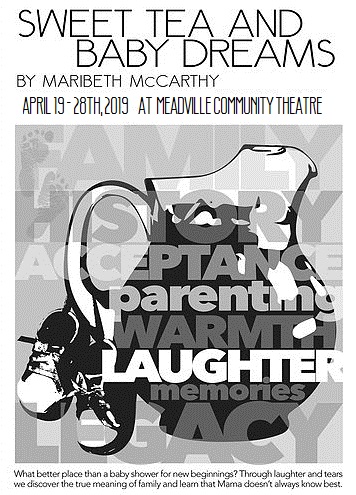 What side of the Mason-Dixon line you're from not only determines the sweetness of your tea, it may also determine how you define the word "Family." Sweet Tea & Baby Dreams, written and directed by the highly energetic Maribeth McCarthy, with Marie Loose in the Assistant Director's seat, is a show for anyone who has ever been to a bridal shower, wedding shower, birthday party, or family reunion for that matter. Feuding-in-laws, domineering mothers and clashing cultures turn the event into a comic chaos that ultimately uncovers long-held sorrows and secrets. Nora is nervously organizing a church baby shower for her sister-in-law, Maggie. Nora, a Northerner, hopes to ingratiate herself with her husband Quinn's traditional Southern mother, Jubilee. Maggie's gung-ho husband Jack and his sarcastic twin siblings, Aiden and Avery, arrive to help, along with Maggie's fun-loving friend Zee, who sneaks in bottles of wine to the dry event. Jubilee soon bursts in, with her other daughter Samantha in tow, whom she's groomed in the ways of Southern womanhood. Jubilee immediately tries to take over, clashing with Nora over choices of decorations, food and games. When Jack and the twins' mother, Anne, shows up, her long-held animosity for Jubilee erupts into a battle of insults and name-calling. In the aftermath, Jubilee's three children attempt a breakthrough in their relationship with their mother. Sweet Tea & Baby Dreams runs April 19 – 28, 2019. *Please note that there will be no matinee performance on Sunday, April 21st. Instead, there will be both a matinee and evening performance on Saturday, April 20th.*
"Anne of Green Gables: The Musical"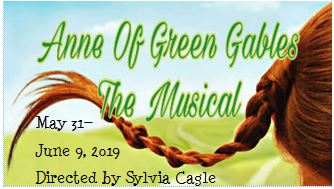 Based on L.M Montgomery's timeless classic, Anne of Green Gables – The Musical follows the rise of Anne Shirley, a feisty, red-haired orphan who arrives unexpectedly in the small community of Avonlea to the Cuthburts, who were expecting a boy to help on their farm, Green Gables. The story follows the precocious and imaginative Anne as she captures the hearts and minds of the small farming community – and her new-found family – simply by the virtue of her own pluck and personality. This original, glorious adaptation, with book by Donald Harron and music by Norman Campbell, continues to enrapture audiences across the world with its rich score and a rare, affecting story for all ages.
Directed by Sylvia Cagle, this musical adaptation is sure to tug at your heartstrings and tickle your funny bones. Anne of Green Gables – The Musical runs May 31 – June 9, 2019 and is presented by special arrangement with SAMUEL FRENCH, INC.
Summer Youth Camp 2019
To register, please fill out the form below and visit https://squareup.com/store/MCT1967 to pay your registration fee.
2019 – 2020 Season
MCT is thrilled to announce our 53rd Season: Crimes of the Heart!
"The Fantasticks"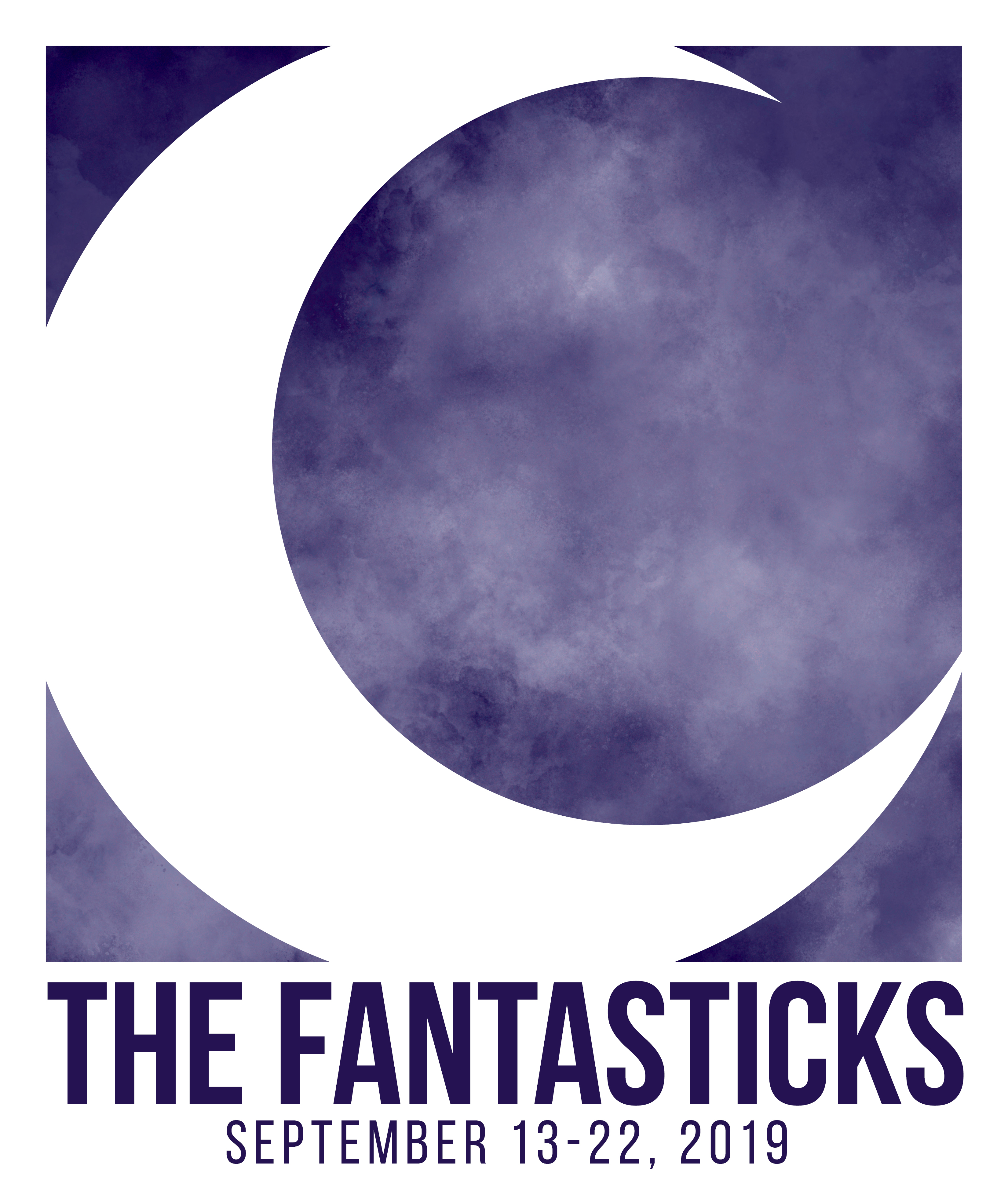 "Try To Remember" a time when this romantic charmer wasn't enchanting audiences around the world. Since its opening in May, 1960, at the Sullivan Street Playhouse in New York, and its subsequent revival at the Snapple Theatre Center, The Fantasticks has become the longest running production of any kind in the history of American Theatre. And with good reason: at the heart of its breathtaking poetry and subtle theatrical sophistication is a purity and simplicity that transcends cultural barriers. The result is a timeless fable of love that manages to be nostalgic and universal at the same time.
The Fantasticks is a funny and romantic musical about a boy, a girl, and their two fathers who try to keep them apart. The narrator, El Gallo, asks the audience to use their imagination and follow him into a world of moonlight and magic. The boy and the girl fall in love, grow apart and finally find their way back to each other after realizing the truth in El Gallo's words that, "without a hurt, the heart is hollow."
Directed by Brian Custard and Joanne Helides, this timeless classic runs September 13 – 22, 2019, Fridays and Saturdays at 7:30pm and Sundays at 2:00pm. The Fantasticks is presented through special arrangement with Music Theatre International (MTI). All authorized performance materials are also supplied by MTI. www.mtishows.com.
Agatha Christie's "And Then There Were None…"
Ten strangers are summoned to a remote island. All that the guests have in common is a wicked past they're unwilling to reveal and a secret that will seal their fate. For each has been marked for murder. As the weather turns and the group is cut off from the mainland, the bloodbath begins and one by one they are brutally murdered in accordance with the lines of a sinister nursery rhyme. One of Christie's darkest tales and a masterpiece of dramatic construction, And Then There Were None's growing sense of dread and unfaltering tension will keep you guessing until the very end.
Directed by Katie Wickert, this dark thriller in two acts is "a perfect combination of thriller and detective story." Show dates are October 25 – November 3, 2019, Friday and Saturdays at 7:30pm and Sundays at 2:00pm. And Then There Were None is presented by special arrangement with SAMUEL FRENCH, INC.
And Then There Were None© 1939, 1943 Agatha Christie Limited. All rights reserved. 'AGATHA CHRISTIE' and the Agatha Christie Signature Mark are trademarks of Agatha Christie Ltd. All rights reserved. The rights to this play are controlled by Agatha Christie Ltd. For further information about this play, others by Agatha Christie, and about other stage adaptations of her stories, please visit: http://www.agathachristie.com.
"Pride and Prejudice"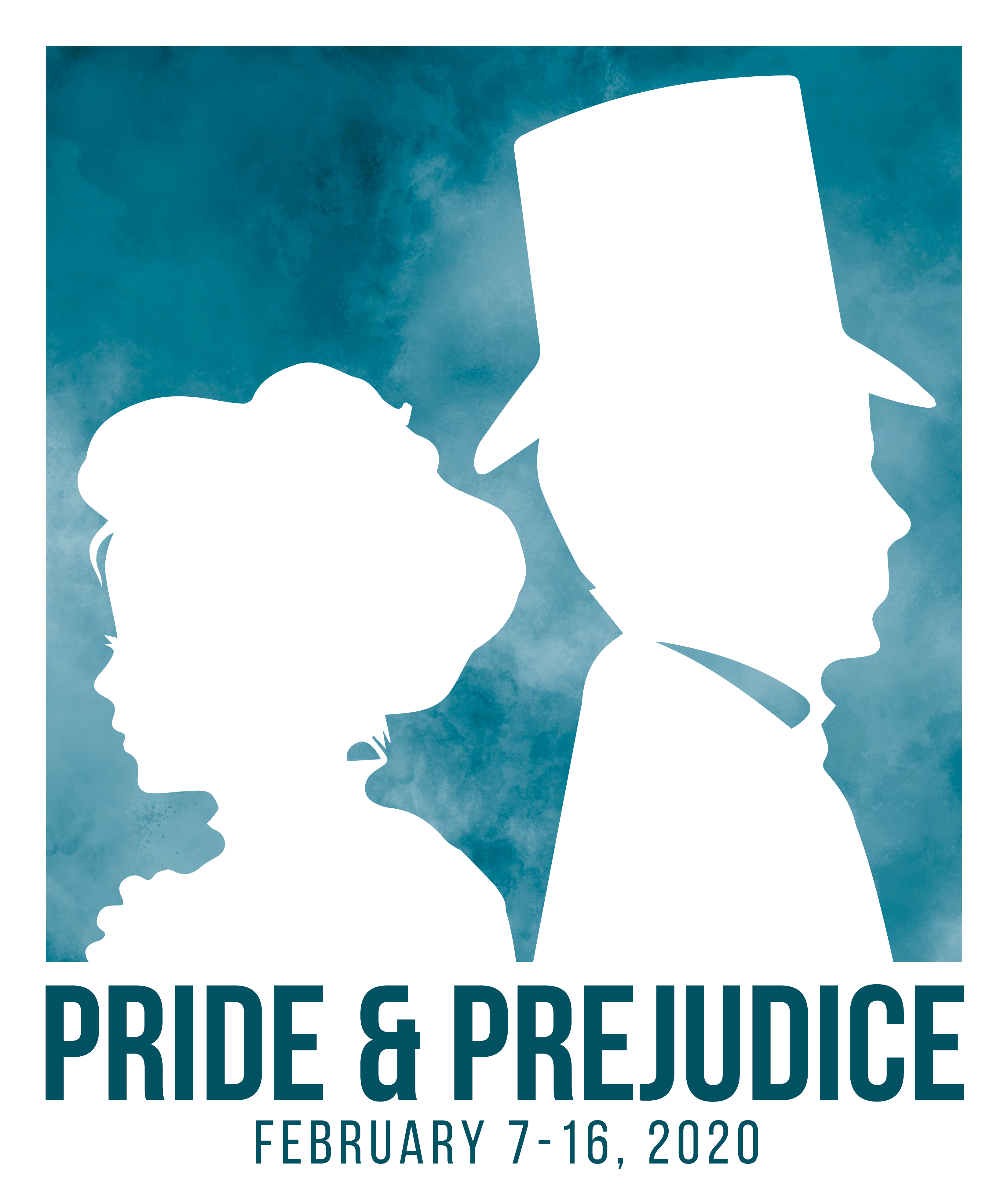 Set in England during the approximate time of early 1800, five daughters of the Bennet family must be married off! Was ever a mother as put upon as Mrs. Bennet? Jane falls deeply in love with the wealthy Mr. Bingley, and it looks as if a romance is possible between Elizabeth and Mr. Darcy. But Mr. Darcy is a very proud young man and he is shocked by mama's vulgar matchmaking! He not only leaves for London, but also manages to take Mr. Bingley with him. Jane is heartbroken. Finally, Mr. Darcy returns to propose to Elizabeth. She promptly refuses and berates him for taking Mr. Bingley away and hurting Jane. The attraction between Elizabeth and Mr. Darcy eventually triumphs over the pride of one and the prejudice of the other.
Based on the enduring novel by Jane Austen and adapted for the stage by Jane Kendall, Pride and Prejudice is directed by Mitchell King, with shows running February 7 – 16, 2020, Friday and Saturday at 7:30pm and Sunday at 2:00pm. This show will be a perfect complement to any Valentine's Day plans. Pride and Prejudice is produced by special arrangement with THE DRAMATIC PUBLISHING COMPANY of Woodstock, Illinois.
"Petite Rouge: A Cajun Red Riding Hood"
MCT is thrilled to present a new take on the classic Little Red Riding Hood fairy tale for its 2019 – 2020 Youth Show. When the Big Bad Gator spies tasty duck Petite Rouge and sidekick cat TeJean heading down the bayou, Petite leads him on a wild duck chase through New Orleans and Mardi Gras all the way to a surprise ending. A Swamp Chorus sings back-up to the Zydeco-driven score in this foot-stomping, family-friendly musical soaked in Cajun hot sauce! This musical, adapted from the book by Mike Artell and illustrated by Jim Harris, is as saucy and colorful, as you'd expect from Joan Cushing, the creator of the blockbuster hits such as the Junie B. Jones and the Miss Nelson musicals!
Join directors Geoff Hall and Alicia Greathouse for this snappy and fiery musical, perfect for anybody who has a little Cajun in them. Show dates are March 27 – April 5, 2020, Friday and Saturday at 7:30pm and Sunday at 2:00pm. Petite Rouge: A Cajun Red Riding Hood is produced by special arrangement with Gurman Agency LLC. Original Production by Imagination Stage.
"Weekend Comedy"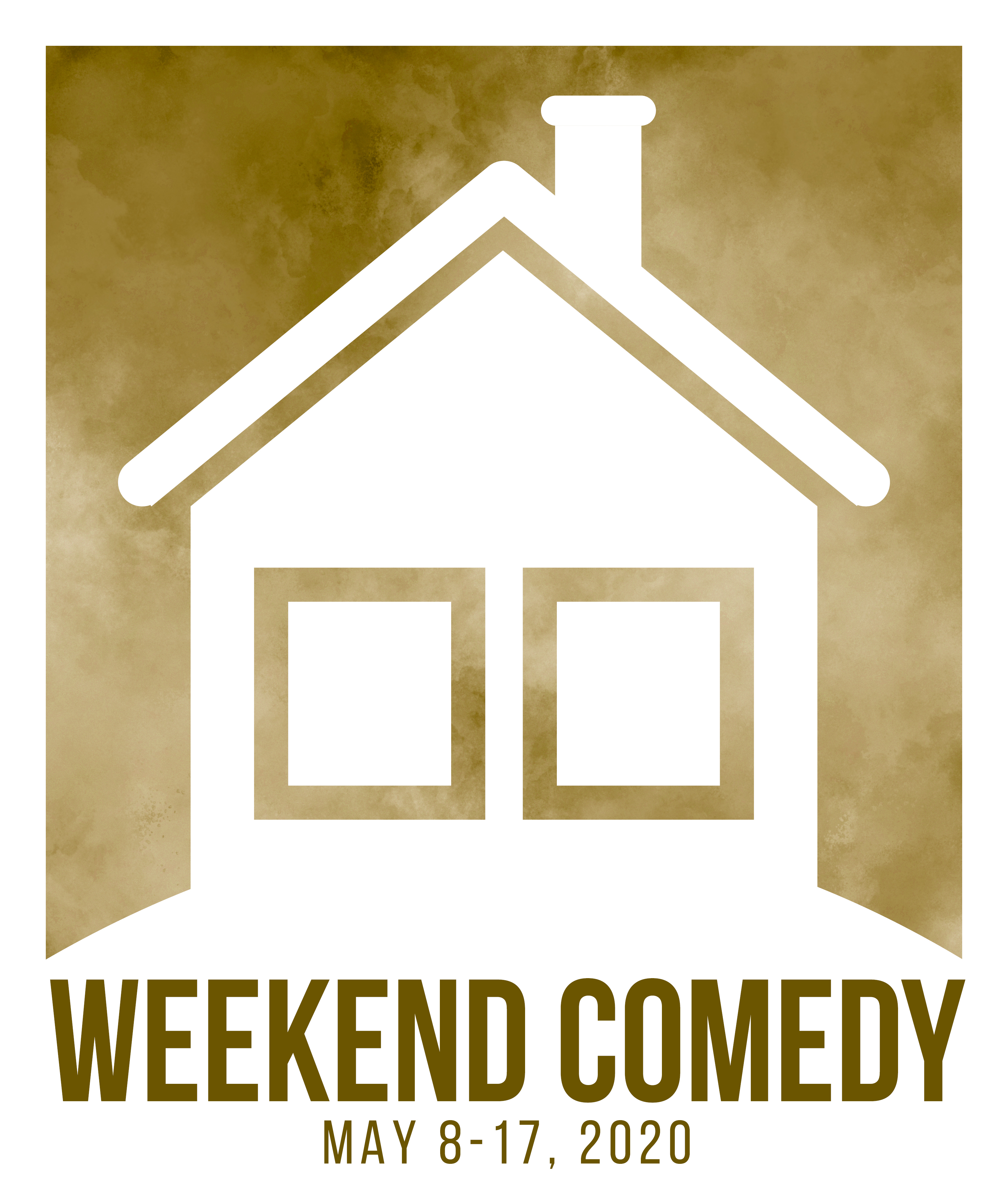 From the celebrated co-authors Jeanne and Sam Brobrick comes Weekend Comedy. When middle-aged couple Peggy and Frank head off to the Catskills for a remote long weekend, her with romance on the mind and him wondering how he's going stay entertained, they have no idea their weekend away is about crashed by a pair of free-wheeling, twenty-somethings, Jill and Tony. When the two couples agree to share the cabin for the weekend, a hilarious clash between the generations begins to brew. Before the weekend is over, can the youngsters learn something from the oldsters and vice versa?
A classic generational comedy, Weekend Comedy is directed by Audrey Schweitzer and runs May 8 – 17, 2020, Fridays and Saturdays at 7:30pm and Sundays at 2:00pm. Weekend Comedy is presented by special arrangement with SAMUEL FRENCH, INC.
"Heathers: The Musical"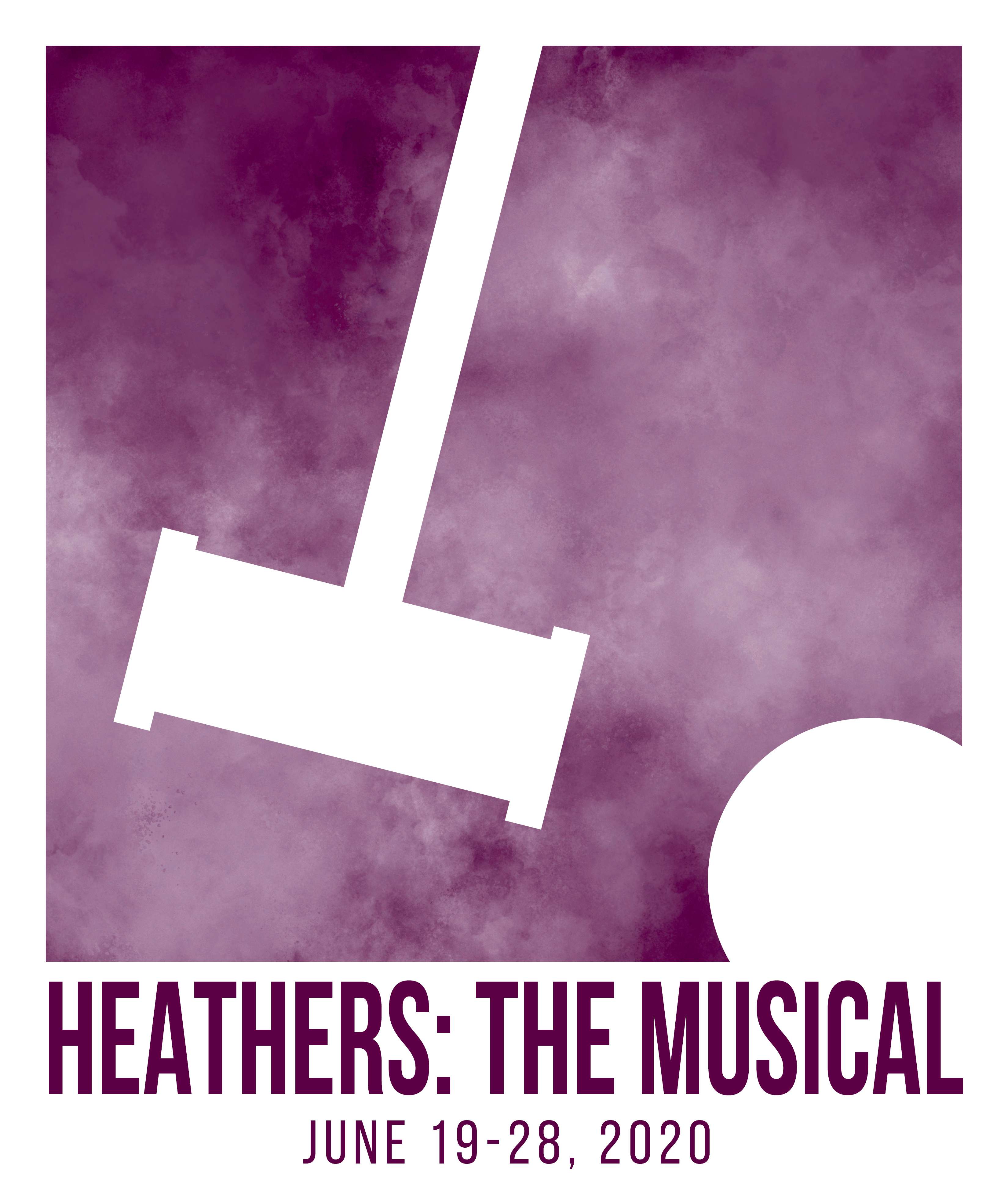 Heathers: The Musical is the darkly delicious story of Veronica Sawyer, a brainy, beautiful teenage misfit who hustles her way into the most powerful and ruthless clique at Westerberg High: The Heathers. But before she can get comfortable atop the high school food chain, Veronica falls in love with the dangerously sexy new kid J.D. When Heather Chandler, the Almighty, kicks her out of the group, Veronica decides to bite the bullet and kiss Heather's aerobicized ass…but J.D. has another plan for that bullet.
Brought to you by the award-winning creative team of Kevin Murphy (Reefer Madness, "Desperate Housewives"), Laurence O'Keefe (Bat Boy, Legally Blonde) and Andy Fickman (Reefer Madness, She's the Man). Heathers: The Musical is a hilarious, heartfelt, and homicidal new show based on the greatest teen comedy of all time. With its moving love story, laugh-out-loud comedy, and unflinching look at the joys and anguish of high school, Heathers will be New York's most popular new musical. Are you in, or are you out?
Based on the 1989 cult classic film written by Daniel Waters, Heathers: The Musical is directed by season musical director, Ellie Wood. Show dates are June 19 – 28, 2020, Fridays and Saturdays at 7:30pm and Sundays at 2:00pm. Heathers: The Musical was originally directed Off-Broadway by Andy Fickman and choreographed by Marguerite Derricks and is presented by special arrangement with SAMUEL FRENCH, INC.
Past Productions
Please see our Gallery page for pictures from previous seasons!